Trinity Specialist Damp Proofing
Why is damp bad news for you and your property?
One of the most frequent problems encountered in any property is damp. Properties need damp proofing because damp can lead to:
• Internal decorations can be damaged - rot is often found in skirtings, floor joists,
floorboards and wall plates.

• Damp often leads to timber decay, particularly in older properties with
unprotected timbers.

• Damage is caused to plaster and rendering as a result of hygroscopic
salt contamination.

• The moisture present often increases the conductivity of the walls, resulting in
increased heat loss from the property.

• Damp can also be particularly bad for your health as it can be a breeding ground for
mites and mould, aggravating respiratory problems such as asthma.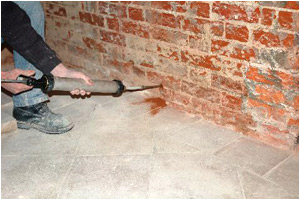 The main types of damp
Rising Damp
Rising dampness is caused when water from the ground spreads into the brickwork by means of capillary action rising through fine pores in the walling and masonry. The height of the rising dampness will be influenced both by the amount of moisture in the soil, the height of the water table and any leaks in below ground level drainage. The maximum height that would be expected is 1200mm under normal conditions.

The first signs of dampness are usually associated with visible staining and discoloration of internal decorations or, in more severe cases, damage to plasterwork caused through salt contamination and deterioration of skirting boards.

Rising dampness can occur for a number of reasons – the absence or failure of an existing damp proof course, bridging either by high ground levels where soil levels have been built up over the years, or new pathways or paving. Bridging can also occur internally at wall/floor junctions especially where there are solid floors or original floors have been laid and do not link up to the wall damp proof course. Condensation dampness and plumbing leaks can also create a rising damp scenario therefore it is important to investigate thoroughly to ensure correct diagnosis. If left unchecked it will rot any floor timbers and other interior timber it comes into contact with. A lack of ventilation will encourage and support the development of wet rot and dry rot.

Rising dampness also carries with it ground salts, including chlorides and nitrates. These salts by their nature are hygroscopic, i.e. will attract moisture to them from the atmosphere leading to further dampness especially in conditions of high relative humidity. In addition the cyclical nature of crystallisation and rewetting can ruin decorations and break down internal plaster.
Condensation
Condensation is the most common form of damp found in any property, with lack of adequate ventilation often causing the problem. Typical problems associated with condensation include peeling wall paper and, in extreme cases, plaster and the build up of black mould which is a typical breeding ground of mites, leading to possible respiratory problems.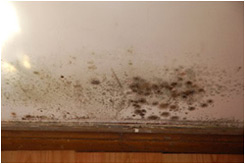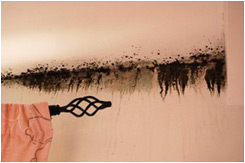 Penetrating Damp
Because of the relatively high profile of rising dampness and condensation, penetrating dampness tends to be overlooked, but it is still a significant problem. If left unchecked, penetrating damp can lead to Dry Rot. In fact over 70% of all Dry Rot outbreaks have been attributed to damp penetration. Because of the larger volumes of water involved, this can cause extensive damage to plasterwork and decorations and can damage the fabric of a building. Penetrating dampness invariably occurs in older properties. For that reason it is important to ensure that roof coverings, especially where roofs configurations are complex, chimney stacks and rainwater goods are kept clear of debris to maintain the fabric of the building.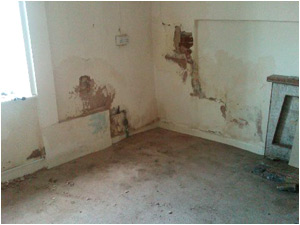 You can rely on us to help
Damp can be successfully treated. A survey will reveal the extent of any problem and the most appropriate course of action will be recommended.
Trinity will provide you with the ideal damp proofing solution for your property. This could be the injection of water repelling chemicals into the brickwork or the installation of a new damp proof membrane to the infected area. Any affected plasterwork or damaged timber will also be removed and replaced.

Got Damp Problems?
Call Trinity Now on 01502 470022 or 07769 644200.