Timber Preservation
Timber can easily be weakened by damp, rot, woodworm and other fungal decay. If you own or manage an old property/properties, it's likely that your timber needs to be protected from attack before weaknesses occur in your property. This will avoid any costly or dangerous structural problems occurring.
How can Trinity help?
We're happy to visit you and provide a free timber survey and report identifying any potential problems which need repair.

All the chemical treatments we use are the safest available products for the prevention of rot and beetle infestations. Treatments are applied either by spray or brush applied and are non-staining. The chemicals we use are also low odour and the treated areas can be returned to within one hour.

For free advice, call Trinity Now on 01502 470022 or 07769 644200.
Beetle Infestation
How do you know if you have a problem?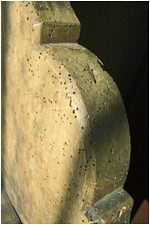 Whilst the presence of Dry Rot would appear to make the infestation of timber by woodborers of secondary importance, insects such as the death watch beetle in particular, can cause extensive damage. Wood boring insects have a typical four stage life cycle in which the female of the species lay eggs on the timber and these hatch the young larvae which then bore through the wood. The tunnels they make are filled with frass (bore dust); these have characteristic shape and size with is useful when making identification. When the full grown larva pupates, usually near the surface of the timber, they emerge as adult beetles through flight holes which can be seen on the surface of the wood during the late spring and summer months. This is usually the first signs of infestation.

The most common wood boring insect found in timbers is the Common Furniture beetle (anobium punctatum). The life cycle
is between 1-3 years depending on prevailing conditions.


Our treatment
The presence in timbers of fresh emergence holes would require treatment and this can usually be carried out with minimal disruption. All products used are approved by the Health and Safety Executive (HSE).

Call Trinity Now for free advice on 01502 470022 or 07769 644200.