Dry & Wet Rot treatments
Dry and Wet Rot are wood destroying fungi which eat into timber and weaken it significantly; this can often lead to serious structural problems making properties dangerously unstable if left unchecked.
Dry Rot
A serious problem and how to identify if you have Dry Rot
Dry Rot is particularly serious, spreading quickly, even through walls to attack timber. It needs to be dealt with quickly as Dry Rot makes timber weak and brittle – not good for any property!

The presence of Dry Rot can be identified by the presence of sporophores (fruiting bodies) and these are commonly found on timber in proximity to masonry where damp conditions prevail. The fruiting body is soft in texture, fleshy pancake or bracket shaped in appearance with an ochre/orange surface and rust red coloured spores. This is frequently the first sign of Dry Rot and infected timber generally displays a dull brown colour together with deep and cuboidal cracking (cracks appear in cube shapes) and crumbling between the fingers.

Unlike some Wet Rots, where there is a hardened surface to disguise this drying out of the wood, the whole of the section of timber is affected. The Dry Rot also produces hyphae and in mass is referred to as mycelium which is usually a silky grey in appearance, often with hints of yellow or lilac patches. Under humid conditions, such as cellars and basements, it may be a cotton woolly texture where water droplets may develop. Where the Dry Rot has become established it produces conducting strands that support the growth across timber and into damp masonry. It commonly infects hidden timbers such as lintels (bressumers fixing grounds behind panelling for instance), framing timbers and joinery i.e. skirting's, window and doorframes, staircase timbers and architraves. Dry Rot favours a moisture content around 23% and moderate temperature fluctuation - it favours static conditions.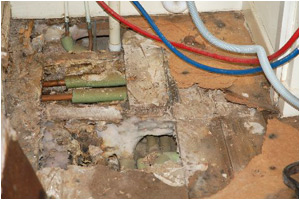 Our solution
Is imperative that the full extent of the Dry Rot is realised, the source of moisture is removed and the outbreak is eradicated. We will undertake the sterilization of masonry, cut back/remove infected timbers and provide in-situ treatment of adjacent sound timbers. We also offer support measures such as damp proof membranes and isolating timbers from any potential sources of dampness.

Treatment is carried out using the latest formulations including low odour micro emulsion preservative. This is applied to masonry and preservatives by mass irrigation in the form of paste, with gels applied to timbers. All products used are approved by the Health and Safety Executive (HSE).
Wet Rot
Wet Rot occurs where high levels of moisture are found in a property. Whilst not as serious as Dry Rot, the same serious structural problems can occur if the Wet Rot is left untreated for a long period of time. Therefore it is important to ensure there is adequate ventilation to sub-floor areas, roof voids and to maintain the property in a watertight condition.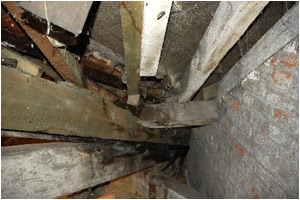 How can we help?
A survey from our highly skilled, experienced staff can establish the full extent of any Dry or Wet Rot problems. The treatment recommended will depend on the extent of the rot and its location in the property. We will identify the nature, type and extent of the decay, determine the cause, finding the source of moisture, propose the cure for the rot with full details on exactly how this will be done and advise what additional steps (if any) are required to safeguard the property.
All the chemical treatments we use are the safest available and we regularly specify Boron based products for the eradication of rot. Boron is applied by brush or sprayer, is non-staining and the treated area can be returned to within one hour. It has no smell and no vapour. Importantly it biodegrades easily and does not release toxic fumes.

If you need remedial building works, including replacement of damaged timbers, we can provide a quotation for this work, as required.

Got Dry/Wet Rot problems?
Call us now on 01502 470022 or 07769 644200.